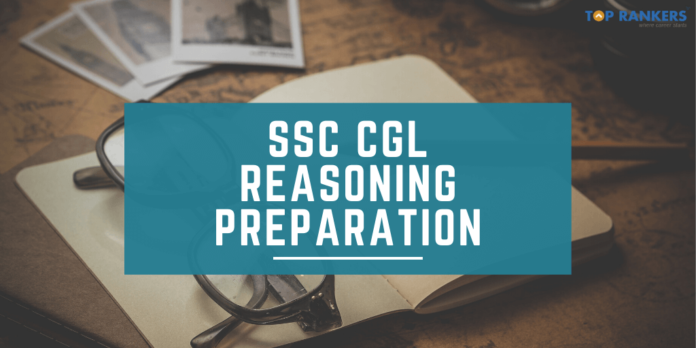 The competition for SSC CGL exam is getting tough year by year as the exam is gaining popularity and the number of applicants is increasing. Aspirants start their preparation much earlier in order to stay ahead of the competition. 
Due to the intense competition, candidates tend to get anxious and fail to give their 100 percent in the preparation of the section that can help them fetch good marks in the examination.
Yes, it is reasoning. The reasoning is a bit tricky but a scoring section at the same time. Candidates who have good command over it can easily get through the competition. Those who find it difficult to deal with this section, we have got you covered. 
Reasoning constitutes a major part of the SSC CGL syllabus. Candidates under this section are tested for their judgement and thinking skills that demand analytical ability and presence of mind. 
Hence, to help candidates ace the competition of  SSC CGL 2020, we have come up with a few strategies to fetch maximum marks in the reasoning section and increase their overall scores. 
Strategies For Preparation of Reasoning section of CGL Exam
Aspirants need to follow the below-mentioned strategies to take up reasoning questions in the exam easily.
Analyze the pattern of the question. When you pick any topic and solve questions try to analyze the pattern of the question. This way you will be able to strategies different approaches for different variety of questions and it will become easy to apply the same for similar variety in the exam.

Reasoning requires candidates to think in a particular way so hopping from one topic to different at the start of the preparation is not advisable. Focus topic wise, once you think that you are able to solve varieties from one topic then you can move further.

Remember, the answer to the question is in the question itself. So, make it a habit that you read questions carefully and then start answering them.

A few questions can easily be answered if the basics are on your tips, like, understanding of directions should be accurate, remember the sequence of alphabets along with their numerical position.

Do not make assumptions or unnecessary judgement while attempting reasoning questions. Use appropriate tricks to arrive at the correct answer. If you get stuck at any question then try eliminating the options from the given set to arrive at the correct answer. 

Do not rush through the topics while preparing. Try to complete each and every concept. Like, series is an important topic but is difficult too. You can master this topic only if your basics are firm.

To strengthen your reasoning skills, keep imagining 3D objects like paper folding, Dice etc. this will help you in solving questions.

Time is of the utmost importance when it comes to solving the reasoning questions. Solving reasoning takes a lot of time hence it is important that you practice questions with time constraints. This will enhance your time management skills.

Do not forget the relevance of mock tests for practice and revision. Taking up mock tests for reasoning can help you understand the topic that needs more attention and will enable you to come up with a new approach for different types of questions.  

Once done with the preparation it is imperative to know the variety and scope that is asked under the reasoning section of CGL exam, hence previous year papers and sample papers can be really helpful.
Aspirants can check out the SSC CGL Question Papers in the given link to understand what type of reasoning questions they can face in the final exam.
The Trickiest and time-consuming section can be mastered and cleared like a pro if candidates move ahead strategically with the preparation.
All the Best!