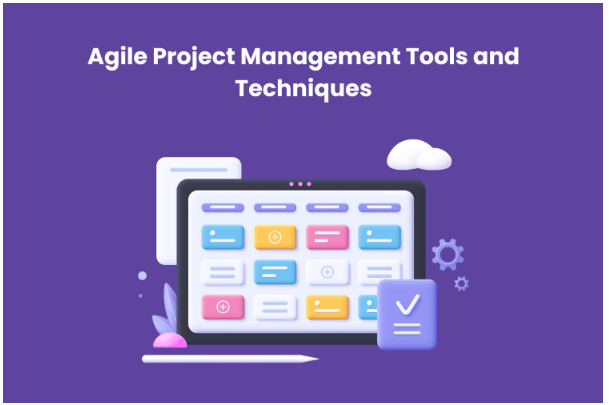 The Agile methodology has emerged as a transformative approach to enhance efficiency, collaboration, and adaptability. Agile project management emphasizes flexibility, iterative development, and continuous improvement. To navigate the complexities of Agile, project managers often turn to a range of tools and techniques. In this blog, we'll explore the world of Agile project management, shedding light on essential tools and techniques that contribute to successful project delivery. Additionally, we'll touch upon the significance of Agile Training Online and the role of an Agile Project Manager in steering projects towards success.
Understanding Agile Project Management 
Iterative and adaptable, Agile Project Management emphasizes teamwork, client input, and small, steady wins. Adaptation and change are hallmarks of the Agile methodology, which differs from more conventional approaches to project management. Projects demanding quick delivery and changing requirements are ideal candidates for the Agile methodology. 
Essential Agile Project Management Tools 
Jira: Project teams may benefit from Jira, an Agile project management application, since it facilitates task planning, tracking, and monitoring. It has tools for managing backlogs, organising sprints, and collaborating in real time. Thanks to its adaptability, Jira works well with several Agile frameworks, such as Scrum and Kanban. 
Trello: Tasks may be more easily organised and prioritised with Trello, a visual solution for project management that utilises boards, lists, and cards. Agile teams using the Kanban technique will find it very useful. The user-friendly design of Trello promotes teamwork and open communication. 
VersionOne: VersionOne, an Agile project management platform, aims to facilitate all stages of Agile development. You may use its features for reporting, release planning, and backlog management. For more prominent companies with intricate Agile processes, VersionOne's all-inclusive platform is invaluable. 
Asana: With its adaptability, Asana can accommodate both conventional and Agile approaches to project management. Agile methods like Scrum and Kanban may use their project, task, and timeline creation capabilities. Asana encourages team members to talk to one another and work together. 
Confluence: Confluence is a collaboration platform teams may use to generate, distribute, and work together on project documentation. It is typically used in combination with Jira. It promotes openness and harmony in the team by improving communication and information exchange. 
Agile Project Management Techniques 
Let's explore the Agile Project Management Techniques:
Scrum Framework:

For this reason, Scrum has become one of the most popular Agile frameworks. It uses iterative processes called sprints, usually two to four weeks long. Scrum rituals like daily stand-ups, sprint reviews, and sprint planning highlight teamwork, flexibility, and frequent reflection. 

Kanban Methodology:

Kanban is a visual tool for management that assists teams in maximising the efficiency of their workflow. Using a Kanban board, work items may progress through various process phases. Kanban encourages continuous delivery and shows the status of tasks in real-time. 

User Stories:

Creating user stories aims to provide a high-level end-user viewpoint on a product or capability. Agile teams may use them to prioritise the backlog and organise sprints focusing on delivering value to customers. 

Burndown Charts:

Burndown charts graphically display a sprint or project's remaining time and effort. This way, teams can monitor their development, spot patterns, and make calculated changes to reach their objectives. 

Retrospectives:

Agile teams regularly do meetings called retrospectives to discuss their processes and find ways to improve them. This method allows groups to foster a growth mindset, boosting their performance. 
Agile Training Online: Empowering Agile Project Managers 
Keeping abreast of cutting-edge methods and resources is essential in the dynamic field of Agile project management. Online agile training is an excellent method for project managers to get the needed knowledge without leaving the comfort of their homes. Agile Project Managers may improve their team leadership skills by taking advantage of these online courses, which cover various subjects such as Agile processes, tools, and leadership techniques. 
Key Benefits of Agile Training Online: 
Agile project managers have the flexibility to study at their speed and fit education into their hectic schedules thanks to online training.  

If you want a complete grasp of Agile project management, enrol in an online course covering concepts, methodology, and practical implementations.

Quizzes, conversations, and case studies are just a few examples of the interactive components many online courses use to make learning fun and interesting. 

Certified Agile Project Managers have shown competence by completing accredited online Agile training courses. 
The Role of an Agile Project Manager  
For Agile projects to be successful, an Agile project manager is essential. This position requires: 
An efficient and consistent method of project management is ensured by having an Agile Project Manager who can lead a team in adopting and maintaining Agile practices. 

Agile project managers provide a seamless and effective workflow by identifying and removing any impediments that may be in the way of the team's development.   

One of the main principles of Agile methods is collaboration. Agile project managers encourage open dialogue and cooperation among team members and outside parties. 

During retrospectives, Agile project managers actively get their teams to think about how they did and where they can make improvements. 

As a leader, motivators, and supporters of their teams, Agile project managers create an atmosphere conducive to high performance. 
Conclusion  
The combination of online Agile training, effective leadership from Agile Project Managers, and the tools and practises of Agile project management provides a strong foundation for the successful execution of projects. Teams can adapt, cooperate, and consistently produce value in an ever-changing project context by embracing the concepts of Agile.