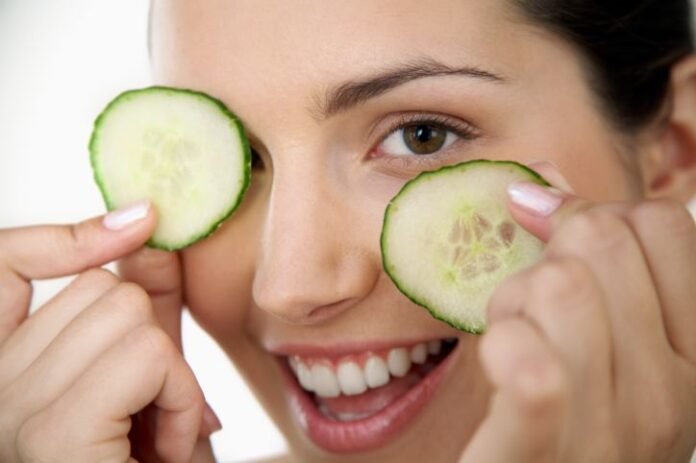 Beyond its use to decongest the eyes, as a famous pickle or to refresh salads, cucumber is one of the most versatile foods in our kitchen. Take it out of the vegetable drawer and take it to the bathroom because the number of uses it can have in beauty will surprise you.
1. Cucumber tonic: If you ever wake up with the feeling of a puffy face, this tonic will be a good bet to calm and decongest the skin. You only need:
– 1/2 cucumber in shell, chopped
– 3 tablespoons witch hazel
– 2 tablespoons distilled water
Put all ingredients in a blender and mix until smooth. Pour the mixture through a fine mesh strainer to remove all lumps, and then pour the tonic into a clean bottle with an airtight stopper. Stored in the refrigerator, lasts about 2 weeks. Apply it with a clean cotton ball.
2. Anti-pimple masks:
You will need:
– 2 pieces of cucumber
– 1 drop of rosemary essential oil
– 1 egg white
Crush the cucumber in a blender until completely liquid and then add the drop of rosemary essential oil. Beat the egg white until stiff, add it to the cucumber mixture and apply to the face, avoiding the contour of the eyes and mouth. Remove after 15 minutes using a clean, damp cloth.
3. Conditioner for damaged hair: This conditioner works wonders on damaged hair due to the moisturizing power of cucumber. It is a very easy recipe for which you will need:
– 1 egg
– 1 tablespoon of olive oil
– 1 quarter of peeled cucumber
Mix the egg, olive oil, and peeled cucumber. Spread evenly through the hair, leave it to act for 10 minutes and then rinse the hair well with warm water.