Influencer marketing has proven to be a valuable strategy in recent years for brands looking to get their name out there on social media. Whether you want to boost brand awareness, attract new followers, or drive sales, influencer marketing can help you achieve your goals.
However, like all marketing strategies, success in influencer marketing is dependent on how much work you put into your campaign. At the beginning, it's critical to define your objectives, target audience, budget and timeline. Later, each stage of the campaign requires your attention to keep things running smoothly.
Thankfully, there are some tools that can help you out along the way. Here are 6 tools that can aid you during various stages of your campaign.
Find influencers with Heepsy
Heepsy helps you find influencers to collaborate with your brand. This influencer marketing platform lets you search through over 11 million influencers on Instagram and Youtube. Use search filters like location, category, followers, and engagement to tailor your search to exactly what you want.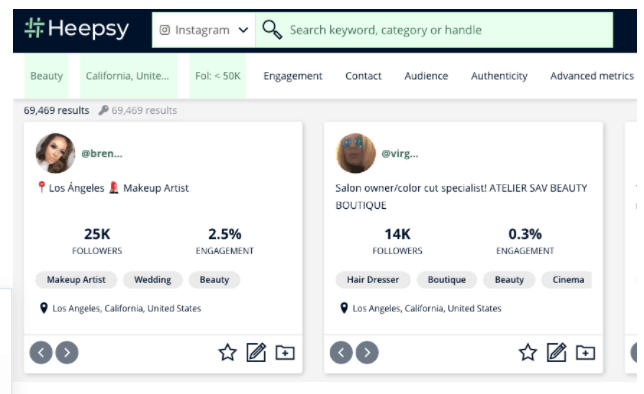 You also get analytics information about influencers' performance-driven metrics, like follower growth, engagement rate, and audience demographics. Finally, organize your search results in customizable lists, and download lists as a spreadsheet to help automate your outreach.
Heepsy has various plans depending on the scope of your needs, and also offers a free trial version.
Automate your outreach with YAMM
Yet Another Mail Merge, or YAMM, is an add-on for Google Sheets and Gmail that lets you send out automated yet personalized emails. Prepare your mailing list in Sheets, set up a template in Gmail, and let YAMM do the rest.
The add-on also tracks the status of the emails you send out. See if influencers received, opened or replied to your emails, and which emails bounced. 
YAMM offers two versions: personal and professional. 
Set up trackable links with Campaign URL Builder
Campaign URL Builder is a tool from Google that lets you easily add UTMs to your hyperlinks.
UTM codes, or urchin tracking modules, are bits of code that allow you to track your links in Google Analytics. See the traffic, clicks and users related to each link.
There are three mandatory UTMs: campaign source, campaign medium and campaign name. They're all explained on the Campaign URL Builder page:
In influencer campaigns, you can set up different UTMs for each influencer. Then, after the campaign ends, you're able to see which influencers brought you the most traffic, clicks, sales, etc. 
The best part? Campaign URL Builder is totally free to use.
Not sure which hashtags to use for your influencer campaign? If you need some inspiration, Display Purposes can help you. Type in a few hashtags, and the program suggests others related to what you've put in. 
If you sign up, you can also plug in your Instagram handle and see an analysis of the hashtags that bring the most traffic to your account.
Track your campaign media with Mighty Scout
Mighty Scout is a campaign monitoring tool for Instagram. It lets you keep track of all the media published by influencers for your campaign.
With Mighty Scout, you tell the program which hashtags and mentions to track, and it automatically collects influencer media and related data like comments, likes, etc. When your campaign is over, you can also export a report to help summarize your campaign results. 
Like Heepsy, Mighty Scout has various price points depending on your brand's needs.
Monitor and analyze your results with Google Analytics
Google Analytics can help you learn a wealth about your website and the people who visit it. Learn about where your visitors come from, how long they spend on each page, and what paths they take through your site. For influencer campaigns, you can use it with UTMs to compare various influencers or social networks with respect to how much traffic they bring you.
A look at the dashboard of a Google demo account used in Analytics training.
There's also a ton of free educational content out there about Analytics. Google offers courses, and there's a wealth of videos and how-tos. With these resources, even beginners can get started in Google Analytics.
Analytics is free to use, although there is a paid option, Google Analytics 360, for large enterprises that want to dive deeper into their business data.
Conclusion
These 6 tools can help you out at different stages of your influencer marketing campaign. Just remember that when using them, and when making any decisions about your campaign, stay-objective focuses. Remember your objective, and make choices that help you advance towards it.